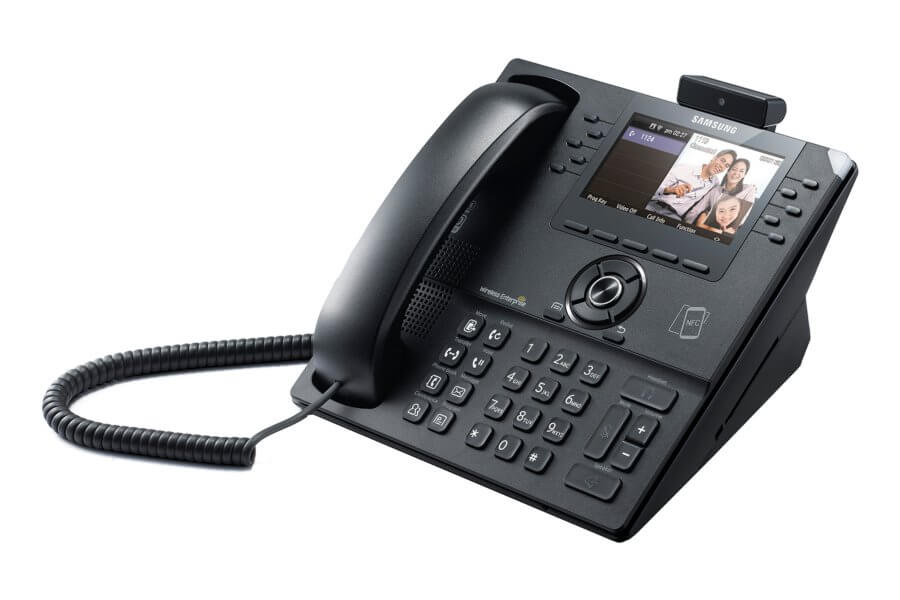 The Samsung Multimedia Telephone (SMT) range of IP handsets have been designed with Unified Communications in mind. With flexible deployment options including wired (Dual Gigabit or 10/100T Ports) or wireless (802.11n) and robust and secure HD Audio communications, the SMT range of IP handsets from Samsung delivers true business grade reliability and functionality.
The range is equipped with industry leading features like hot desking via Near Field Communications (NFC) tap with Smartphones and SMT-i5343 handsets, Bluetooth connectivity with seamless call move between devices, Electronic Hook Switch USB Port for DECT Wireless headsets, and full duplex speakers to ensure communications remain seamless and uninterrupted.
Across the Samsung SMT and 5000 Digital Series handsets, direct access to features including Voicemail, Call History logs, programmable Busy Lamp Fields (BLF) and fixed function keys to Transfer, Hold, and Conference, are all at the touch of a single button making your communications as intuitive and productive as possible.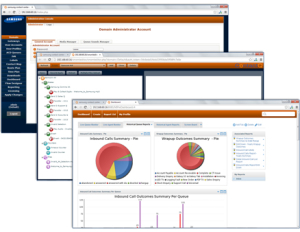 Product Features
Supports Wired and Wireless Networks
HD Audio and Full Duplex Speaker
Smartphone Integration
Innovative and Ergonomic Design
WiFi (802.11) connectivity and Hot Spot
High-resolution LCD vivid display
Electronic Hook Switch
VPN and VLAN Capability
See all features

Need more Information?
Request information about Samsung business products, solutions and services. We will contact you shortly.
Request Info
Wireless And Wired Connectivity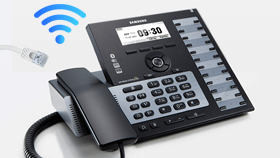 Designed for business executives, the SMT-i6021, SMT-i6011 and SMT-i5343 IP handsets offers secure Wi-Fi technology and many advanced telephony features ensuring high quality communications. The WiFi enable IP phones can be wired or wirelessly connected and they support 2.4/5GHz dual band 802.11n as well as the added convenience of being able to extend WiFi coverage through the integrated Hot Spot function.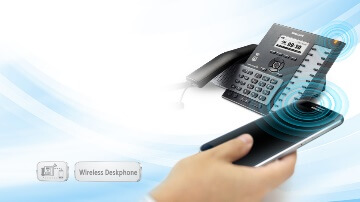 Install the Samsung WE VoIP app on your smartphone and move calls received on your desk phone to your smartphone and vice versa. You can also transition calls from a Wi-Fi environment to your smartphone without interrupting the call.
Optimised Productivity Through Device Integration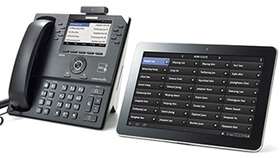 The Samsung Deskphone Manager (SDM) software application allows you to share your contacts, program keys and control settings between smart devices and deskphones. It also enables you to use smartphones and tablets as add-on-modules (AOMs).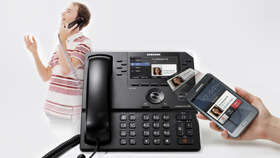 Near Field Communications (NFC) enables two NFC enabled devices to wirelessly communicate. The SMT-i5343 is NFC enabled which is ideal for office environments with shared spaces or where employees travel between office locations as on the go employees can log in/out* of shared handsets via NFC to make it function like their own extension. (*SDM required)
HD Audio And Full Duplex Speakerphone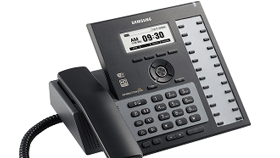 When it comes to important business, you don't leave anything to chance. HD Audio improves the acoustics and audio quality of crucial conversations and helps people hear better in noisy environments. A full duplex speaker phone means you can easily listen and talk hands free.
Network Convergence – 10/100T And Gigabit Connectivity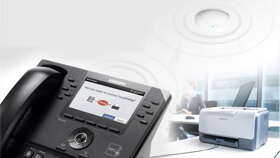 The SMT IP phones are equipped with Power over Ethernet (PoE) and dual Ethernet ports allowing the handset and data equipment to connect to the LAN via a single CAT5/CAT6 connection.
When running voice and data on the same network, the SMT series supports both data priority and voice tagging capabilities allowing suitably equipped networks to apply full Quality of Service (QoS) to maintain crystal clear speech quality. In addition the SMT series supports Packet Loss Correction (PLC) technology and the capability to select the best speech compression codec based on the available bandwidth when calling other users over the local network or remotely over the public internet.
Presence And Streamlined Operations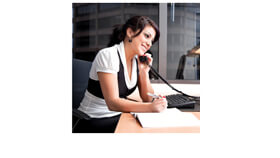 The Busy Lamp Fields (BLF) on the Samsung handsets ensure the status information and presence of other staff is easily visible throughout the business. The programmable BLF also provides quick access to the hundreds of features delivered by the Samsung Unified Communications platforms.
EHS And Bluetooth To Pair Headsets And Transfer Calls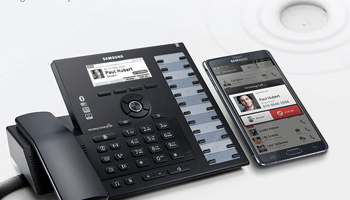 The SMT-i5343, SMT-i6011 and SMT-i6021 have an on board USB Electronic Hook Switch port to remove the need for mechanical lifters when integrating traditional DECT Wireless Headsets allowing staff to be truly mobile and more productive.
Taking that one step further, with integrated Bluetooth, staff can pair Bluetooth headsets with the SMT-i5343, SMT-i6011 and SMT-i6021 handsets as well as mobile phones to seamlessly transfer calls from one device to another via the Samsung "Call Move"* function. (*Not available for OfficeServ systems)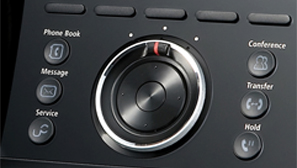 The centrally mounted status dial on the SMT-i5200 series handsets allows the user to control their availability status with a turn of the dial. Turn right to engage the DND (Do not Disturb) or turn left to select your personal Call forward status (All, Busy, or No Answer).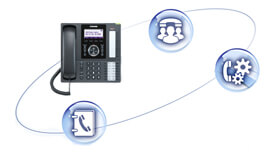 Through use of its unique remote deployment technology, the Samsung SMT- i5000 series can be easily deployed at any remote location for Tele-Working across the internet without the additional requirement, cost or complexity of a hardware VPN.
The SMT handsets will self-configure when connected to an internet or private network connection, (a VPN is not required, but the SMT series can also work via a customer provided VPN) without the need and cost of local technical assistance. When deployed remotely the SMT handsets becomes a seamless extension of the PBX supporting all system features including paging, voicemail, desk-to-desk dialling, trunk access directory dialling and desktop application integration.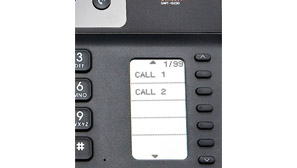 The SMT-5343 and SMT-i5230 handsets have been designed to give full flexibility to the user. The self-labelling function on these models means the user no longer has to write on a piece of paper and constantly change it when an extension number or contact changes. This unique feature enables the user to programme up to 99 keys via an LCD screen.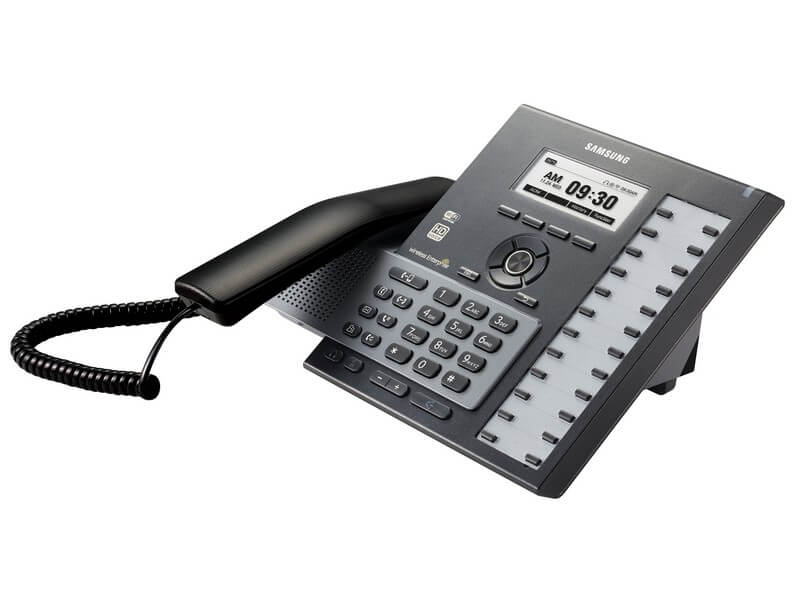 The SMT i6000 Wireless Series of IP Phones changes the rules in IP deployment and the user's experience. A sleek addition to any business, the SMT-i6021 and SMT-i6011 can integrate via Bluetooth to Smartphones (IOS and Android) to provide a range of highly integrated Unified Communications (UC) features which means no expensive cabling costs. As a 2015 Good Design Award winner the SMT-i6000 series comes with a distinctive 'floating' handset which makes it easy to pick up from any direction or angle. In addition, the buttons are grouped according to function and most-used features including conference calling, call transferring, volume control, hold, re-dial and more at your fingertips.
Features at a glance:
Wired and wireless (802.11) connectivity and advanced features
Bluetooth technology to pair headsets and transfer calls between devices
Smartphones and Tablets used as add-on modules (AOMs) via Samsung Deskphone Manager (SDM)
HD Audio for crystal clear voice quality
Two-port Gigabit switch and Electronic Hook Switch USB Port
Contact Synchronisation from your Smartphone to the SMT-i6000 handset
Models: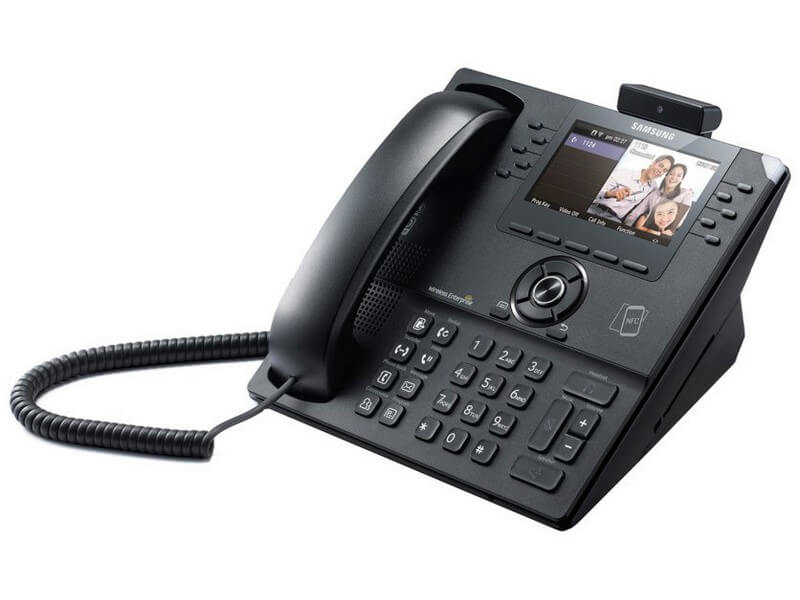 The next evolutionary stage of the business desk phone is here. Wired or wireless, the SMT-i5343 IP phone is a powerful and intuitive business phone that integrates the desk phone into a user's mobile world more than any other solution on the market. Using the latest Near Field Communications (NFC), Bluetooth and wireless technology; the SMT-i5343 raises the bar on fixed and mobile business communications to increase productivity and make the most of mobility.
Features at a glance:
Wired and wireless (802.11) connectivity and advanced features
Bluetooth technology to pair headsets and transfer calls between devices
NFC (Near Field Communication) tap for hot desking
Smartphones and Tablets used as add-on modules (AOMs)
HD Audio and Full Duplex Speaker
Two-port Gigabit switch and Electronic Hook Switch USB Port
Optional USB Video for point to point video calling with other SMT-i5343 users
Models: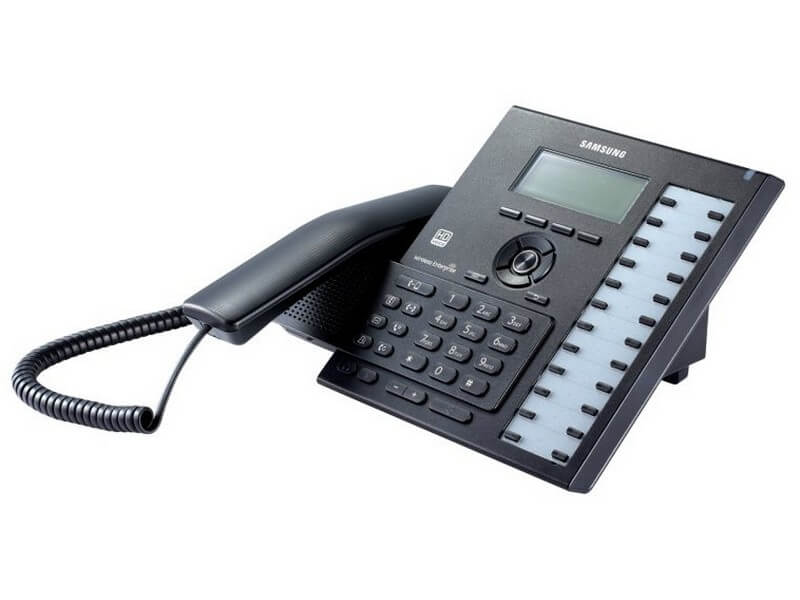 The new ergonomically designed SMT-i6020 and SMT-i6010 handsets are intended to enable easier communication in a fast-paced, multi-device business environment. Offering HD Audio, Gigabit Ethernet, and an Electronic Hook Switch USB Port, the new SMT-i6020 and SMT-i6010 cater for even the most demanding unified communications environments. With instant presence at your fingertips, the button layout has been designed in groups according to function and most-used features including conference calling, call transferring, volume control, hold, re-dial and more to streamline communications and increase productivity.
Features at a glance:
Two-port Gigabit switch and Electronic Hook Switch USB Port
High-resolution LCD Vivid Display (SMT-i6020)
24 (SMT-i6020) and 12 (SMT-i6010) programmable Busy Lamp Fields
Smartphones and Tablets used as add-on modules (AOMs)
HD Audio and Conferencing
Innovative Ergonomic Design with fixed function keys
Models: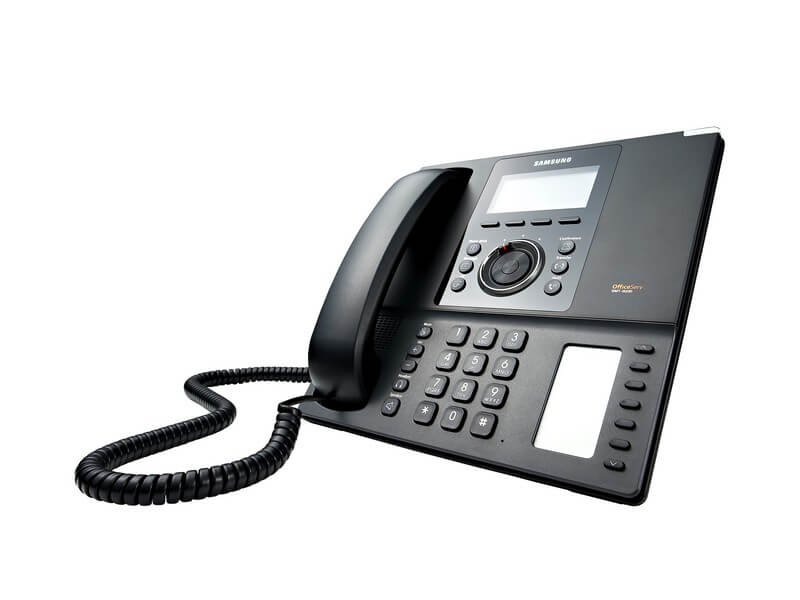 The award winning Samsung SMT-i5000 IP series handsets enable businesses to affordably and easily experience the benefits of Unified Communications. Benefiting from the latest developments in IP telephony, the SMT-i5000 series provides direct access to Voicemail, Call History logs, and a range of advanced UC features that can be individually programmed to suit the needs of individual staff.
The flexible design of the SMT-i5000 IP series allows the handset to be positioned at either 30 degrees or 60 degrees and if required, can also be wall mounted with the use of a bracket. Intelligent routing capability ensures that any users can connect remotely over the internet without the need for any extra hardware with the added benefit of calls being secured using SRTP encryptions.
Features at a glance:
Flexible, modern design optimised for comfort and usability
Navigation dial and intuitive user interface
99 Soft Programmable buttons across the range (OfficeServ only)
Dual port Switch with Power over Ethernet
Gigabit module available in the range (except SMT-i3105)
Remote Working and Hot Desking
Fixed function keys for common features
Models:
SMT-i5230
SMT-i5220
SMT-i5210
SMT-i3105
SMT-i5264
OfficeServ Digital Handsets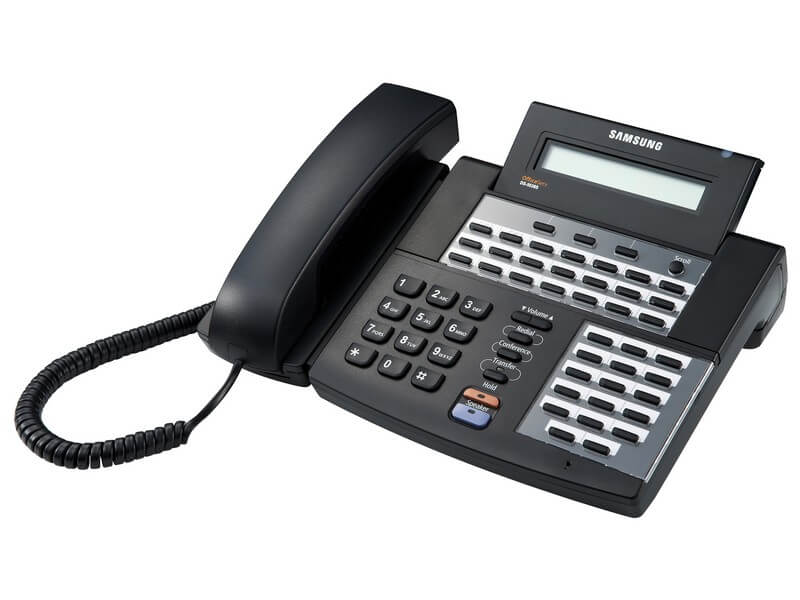 The Samsung 5000 range of digital handsets are stylish and easy to use, with each handset designed to maximise the benefits of the OfficeServ's
functionality. Whether that is a simple telephone, softphone of fully featured handset with LCD display and programmable functions.
The Samsung 5000 series display handsets feature a 32-character, 2-line scrollable LCD screen to display call information like Calling Line Identification (CLI, who is calling) and Direct Dial Inward (DDI, who is being called). The LCD also helps the users navigate effortlessly through systems features. In addition, display handsets incorporate programmable soft keys with tri-coloured LED status indicators that can be used for speed dialling, as well as one-touch feature access keys and traditional 'Key Systems' functionality.
Optional add-on modules can also be assigned to compatible handsets, creating 64 additional soft keys. Or you can choose the standard models as a cost effective alternative for staff whose telephony requirements are not so demanding.
Key Features at a glance:
Intuitive display with contextual menus
Fixed programmable function keys
Busy Lamp Fields (BLF) with Tri Colour Lamps
Adjustable display angle
Conference up to 5 parties from the handset
Hands-free Speaker with headset port
Models:
DS-5038S
DS-5014S
DS-5007S
DS-5021D
DS-5014D
DS-5064